MELVIN IS GETTING READY TO REMOVE HIS TRAINING WHEELS!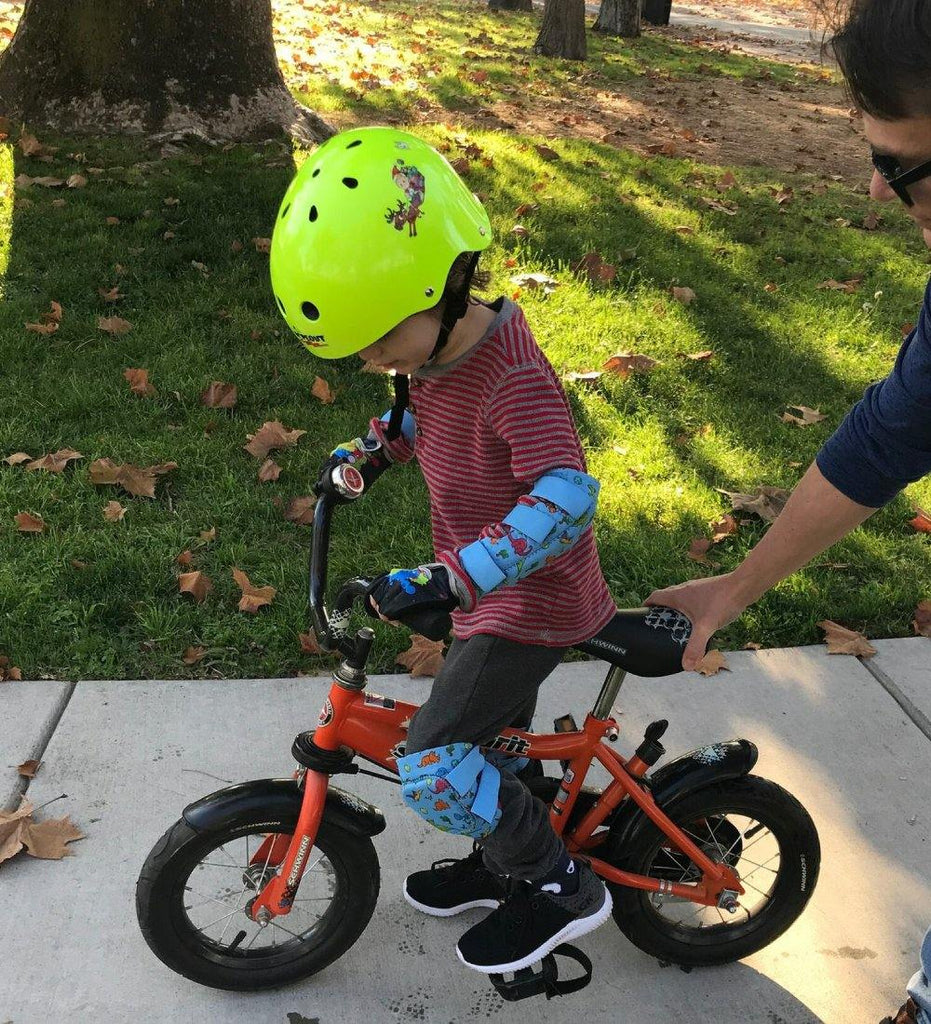 We have a millstone happening around here. Not only did Melvin start Kindergarten this Fall, but he has also been working hard, riding his bike every day and he is getting ready to take his training wheels off!
He is super-excited, and I am super-nervous. Serendipitously, we were contacted by Simply Kids, and they offered Melvin a set of elbow and knee pads free in exchange for an honest review, and a chance to celebrate his milestone with him!
We started off trying on his new gear. Simply Kids let Melvin choose his pattern and of course he chose the dinosaurs! They have a lot of fun and colorful patterns to choose from, you can see them all here:
They arrive in a drawstring storage bag, which is great for hanging next to his bike (or if we need to the handlebars), and they come with stickers! The stickers would be great for decorating and personalizing a helmet.
I asked Simply Kids for help because Melvin was between a small and medium, they suggest the medium so he as room to grow and they fit well.
Melvin has been gaining more and more confidence, still we chose to start the day with one last lap with the training wheels on. Then we asked him again and made sure he was ready to take those training wheels off. He was, so we did it! At first I stayed very close in case he fell. You know falls happen, and having the Simply Kids safety gear, helps keep his knees and elbows safe. Those along with his helmet and he was ready to go!
We loved using the Simply Kids Safety gear. If you would like to order a set, you can find it here: and use can use the code Shyytricia for a 10% discount: Simply Kids on Amazon
We also created this cute "I Can Bike Without Training Wheels" Certificate, and are gifting it to you as a free printable! You can get that here: Dinosaur Certificate
Thank you so much, Simply Kids, we appreciate the free set you sent Melvin.

Thank blog followers, for following our adventures here on the blog!